I have a sneak peek of the Fitting Florets Collection for the 3rd week in my 12 weeks of Christmas today.
The Fitting Florets Collection is a new collection that will be released on November 1, 2022. It is an absolute must have! The paper is gorgeous and meant to cover multiple occasions. You can use it to make a Holiday card, as I have here, or birthday, thank you, etc.. It's just an all-around winner!!
The new collection consists of two stamp sets, matching dies, some gorgeous designer series paper (DSP), and some gold swirl embellishments. You can buy the entire collection or just the pieces that you treasure the most.
A portion of the collection will be in the upcoming Jan-Jun 2023 Mini Catalog, but some of it will not be. The Framed & Festive stamp set, DSP, and embellishments are only available until January 4, 2023 or while supplies last. So, mark your calendars for November 1st because you won't want to miss this one.
A printable PDF of the products can be found by clicking the button below.
Now, on to the card.
To make the card
Begin with a 5 ½" x 8 ½" piece of Evening Evergreen cardstock, score and fold at 4 ¼" to form your card base.
Adhere a 3 7/8" x 5 1/8" piece of Fitting Florets designer series paper (DSP) to a 4" x 5 ¼" piece of Basic White cardstock and adhere both to the card base using Multipurpose Liquid Glue (MLG).
Cut three 1" x 3 7/8" pieces of Fitting Florets DSP and adhere to the card using MLG. (hint- start with the middle strip first to ensure even spacing between them and the sides.)
Using your Stampin' Cut & Emboss machine, crop the following with the Framed Florets dies; one large oval frame and two small leaves in Basic White, one large oval frame in Evening Evergreen, one lined oval and two large leaves in Distressed Gold Specialty paper.
Prepare to emboss
Stamp your sentiment on the inside Evening Evergreen oval with Versamark ink. Quickly dust it with white Embossing Powder, remove the excess, and set in place with your Heat Tool.
Adhere one gold leaf and two white leaves to the upper-left and lower-right corners of the card using MLG.
Lay the large Basic White oval and your sentiment oval on your Silicone Craft Sheet. Apply some MLG to the Distressed Gold oval and place on top of the other two to adhere them together. (hint- since the ovals have holes in them, placing them on the silicone craft sheet will prevent the glue from seeping though onto your work surface.)
Attach the ovals to the center of the card using Stampin' Dimensionals.
Tie a small bow in the Gold & Vanilla Stain Edge ribbon and adhere to the card using a Glue Dot.
Attach three Gold Adhesive-Backed Swirls as shown.
I would love to know your thoughts on the new Fitting Florets Collection. Please let me know what you think of it, and my Christmas card as well.
---
Some of the supplies needed to make this card will not be available until November 1st. If, however, you would like to purchase the available supplies used to make this Fitting Florets Collection card, you can click here or any of the photos below. When ordering, be sure to enter my monthly host code to take advantage of the Ninja Loyalty Rewards Program.
---
It's a Great Time to Join!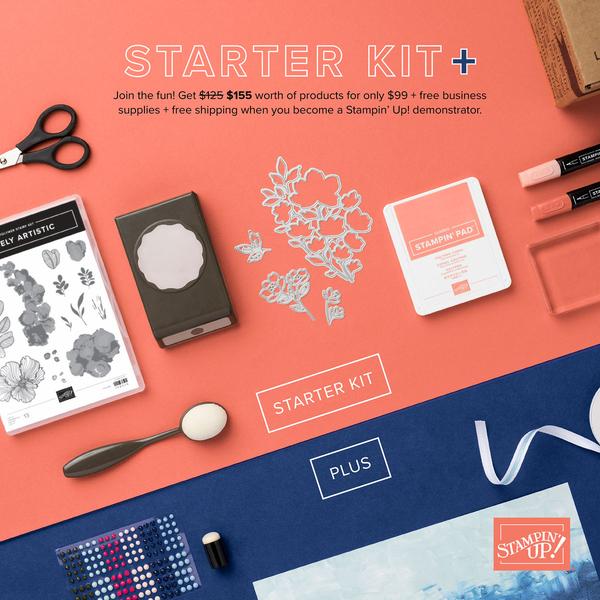 It's a fabulous time to join Stampin' Up! New team members will get even MORE FREE products in their customizable Starter Kit. Between 4–31 October, those who sign up can get $125 USD $155 USD worth of products for only $99 USD + free business supplies + free shipping + all the fun being a part of Stampin' Up!
The details:
A new demonstrator can select any eligible Stampin' Up! products up to the stated value.
The Starter Kit also includes business resources like catalogs, brochures, order forms, and postcards.
In addition to the amazing added value to their Starter Kit, when new team members join Stampin' Up! they get to be a part of our amazing community of crafters. Plus, they get to enjoy sharing simple and fun crafting experiences with others, early access to products, and exclusive access to training events.
The Starter Kit also includes a FREE past Paper Pumpkin kit.
---
Retired Products Sale
Did you have your eye on a stamp set or some designer series paper (DSP) from last year, but missed out? Well, I have just listed all my retired sets, paper, embellishments, and more on my website and the sale is going on now! Items are heavily discounted and are in need of a new home.
The items are listed under the shop button at the top of my blog, but here is a shortcut to get you there quicker.
---

If you enjoyed this post, please be sure to…